Fortifi Celebrates Employee Longevity
Fortifi Celebrates Employee Longevity
March 25, 2022 – Berlin, Wis. – Stories touting statistics about The Great Resignation have become an all-too-familiar sight in today's media, making it tempting to think longevity no longer exists in the workplace.
Some blame COVID-19 for employee retention challenges, but a pre-pandemic report from the U.S. Bureau of Labor Statistics indicated the median length of employee service was just over four years in January 2020.
Fortifi Bank, founded in 1876, and still headquartered in Berlin, Wis., took time to recognize five of its employees that defy those odds.
"We're not immune to recruitment and retention challenges present in today's environment, but we believe it's important to share the other side of the coin," said Greg Lundberg, Fortifi Bank president and CEO. "There are many folks in our community who've dedicated a good part of their lives to the same organization. It's worth celebrating."
At Fortifi's Berlin campus, which includes the retail branch at 240 Broadway St. and its support centers at 153 Franklin St. and 140 W. Huron St., five individuals have exceeded 20 years of service.
Debbie Nigbor, Sara Simonis, Cindy Steinbrink, Jennifer Grota, and Wendy Swansby range from 20 years to over 40 years of employment at Fortifi Bank.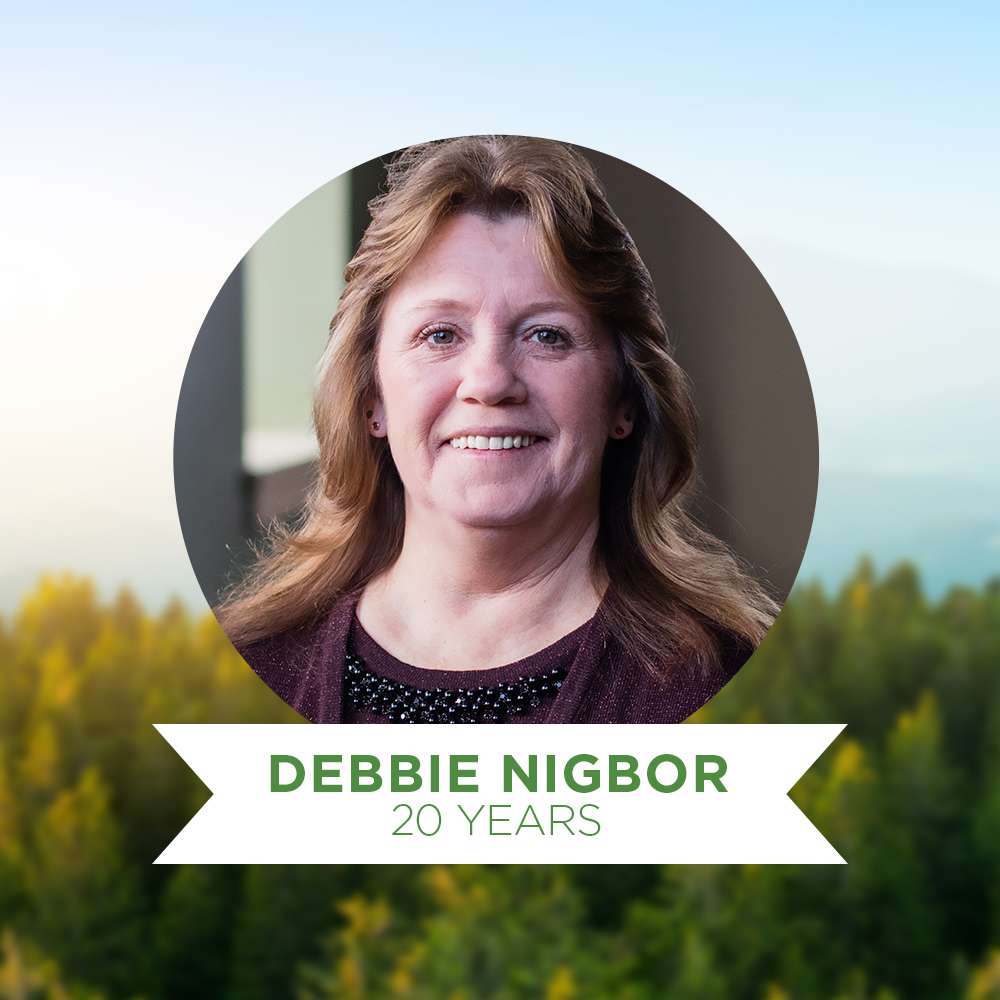 Debbie Nigbor – Loan Processor to Compliance Specialist (20 Years)
Debbie Nigbor joined Fortifi Bank in the loan department in early 2002. She served as a loan processor, file records clerk, and loan quality assurance manager before transitioning to the risk and compliance department.
Today, as compliance specialist, she continues working to keep the bank compliant in all it does. That means digging into rules and regulations that are ever-changing.
"Much has changed in compliance throughout Debbie's 20-year career," said Theresa Weckwerth, vice president and enterprise risk manager. "Regulations are constantly being added or updated as the banking industry evolves. Debbie's work is of the utmost importance to protect the integrity of our bank."
When asked what she finds rewarding in her work, Nigbor mentioned the impact it has on both clients and the bank.
"Ensuring the bank is following federal rules and regulations keeps our clients safe and protects Fortifi's reputation, which makes me feel good about the work I do," said Nigbor.
She also reflected on the career opportunities available in banking today.
"Whether you are a 'people person' or prefer to work behind the scenes, banking touches almost all individuals and can be a very satisfying career. There are many opportunities for advancement depending on your goals and what you are looking to accomplish in your life."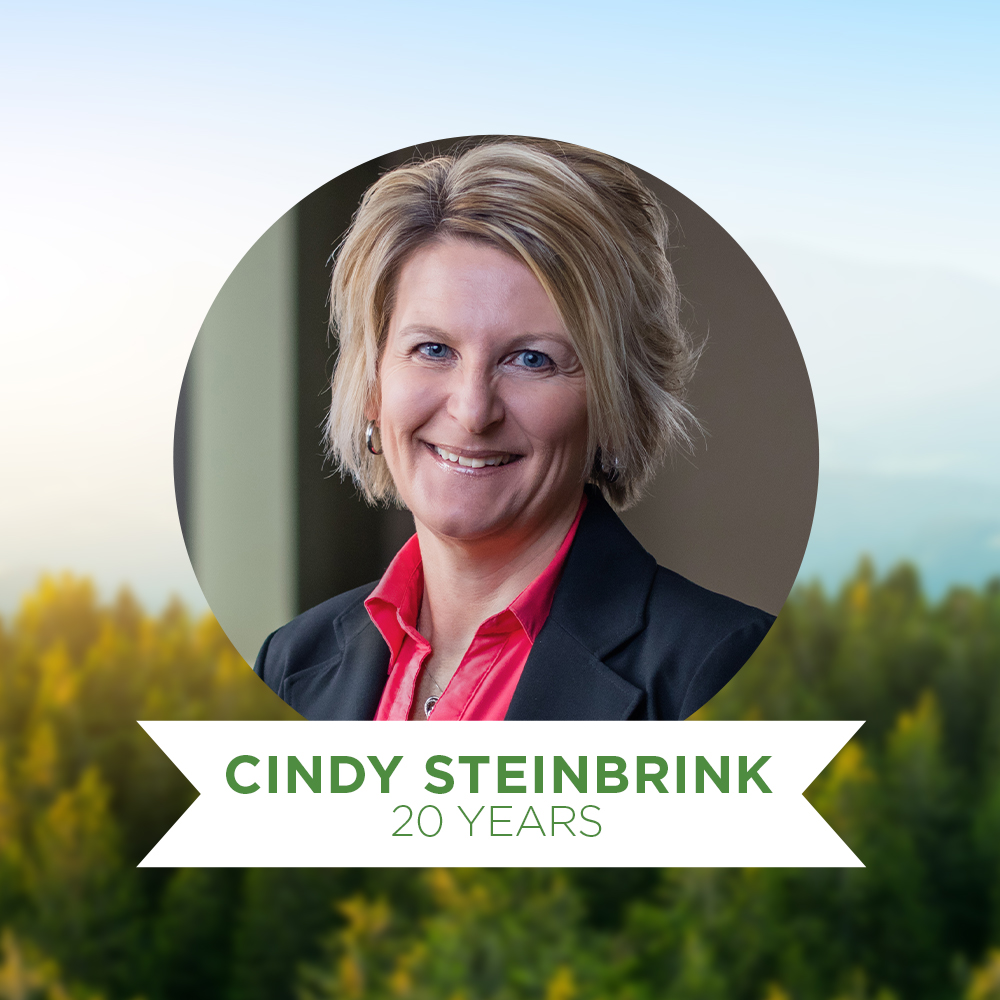 Cindy Steinbrink – Customer Service Representative to Controller (20 Years)
Starting as a customer service representative in 2001, Cindy Steinbrink worked her way up the ranks over the past 20 years to her current role as a vice president and controller.
Along the way she touched many areas of banking including retail banking, risk, and accounting. Her titles included retail banking supervisor, BSA officer, accounting II, accounting leader, and accounting manager.
"Cindy's value goes well beyond her attention to detail and accuracy of financial statements," said Mike Boettcher, Fortifi's chief financial officer. "She has a well-rounded perspective of the bank and helps us connect the details to the big picture. She commits herself fully every day and truly cares about her work and her team."
A member of her team described her dedication and strong leadership style.
"Cindy pours her energy into projects and strives to improve and learn new things every day," said Paula Beulen, accountant. "She is a compassionate and caring leader, making sure we don't feel overwhelmed by our workload."
Though Steinbrink is recognized for over two decades at Fortifi, her banking career started in 1985, when she was a senior in high school.
"When I first started, it was very manual," described Steinbrink. "Today, our accounting team has automated many functions and has also found ways to perform our responsibilities offsite – something I never would have dreamed possible years ago."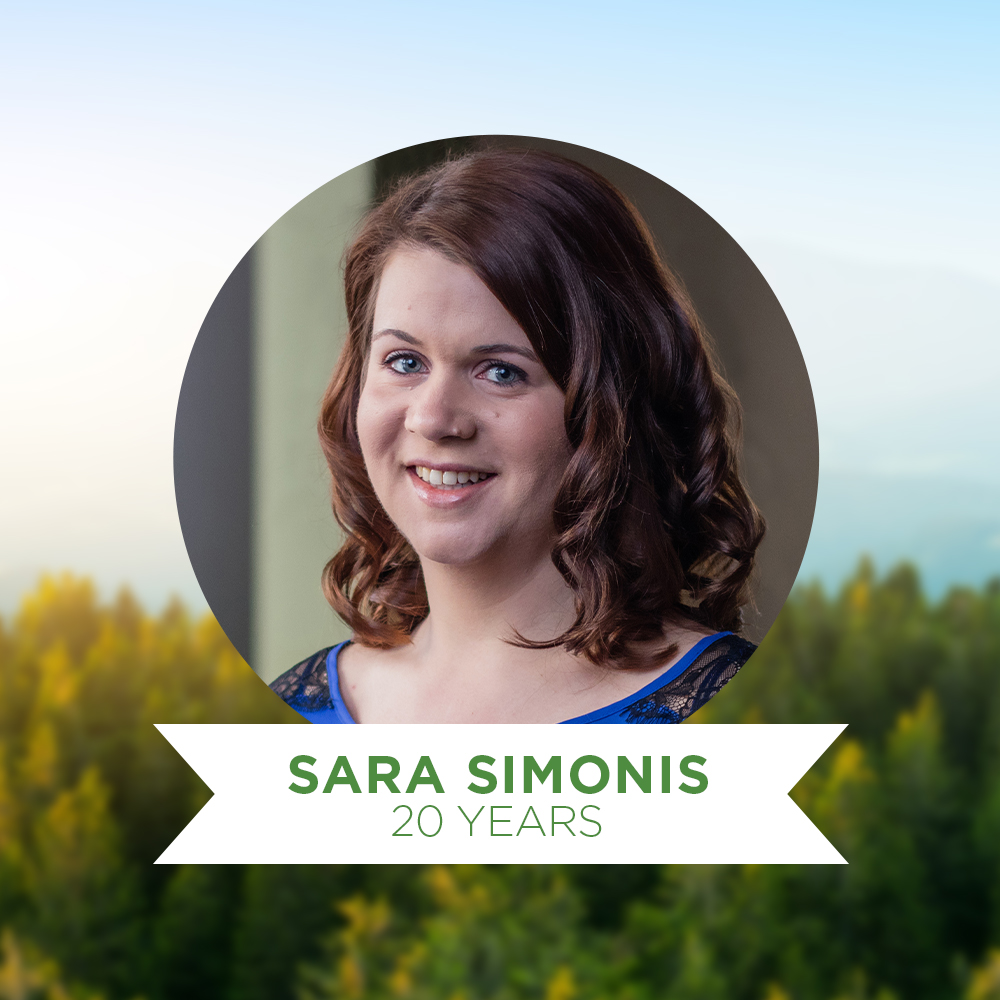 Sara Simonis – Teller to Digital Operations Specialist (20 Years)
Sara Simonis, a resident of Ripon, began as a teller in December 2001. In that time, she has acquired nearly as many job titles as years of service.
Simonis transitioned to back-office support roles, and her work shifted alongside the evolution of digital banking and new ways of processing payments. She served as central services, operations and electronic banking support, electronic banking specialist, client support leader, and digital operations leader.
In her current role, she is the digital operations payment services specialist and support lead. That means she handles many things consumers take for granted, like using debit cards and online banking. Her seemingly endless repertoire also includes direct deposits and loan processing.
"Sara is a problem-solver and she never skips a beat," said Anna Koplin, vice president of retail banking. "She remains calm and collected under pressure, which can be intense when a client wants to stop a wire transfer or believes they have fallen victim to fraud. Her knowledge and can-do attitude make her a respected resource and leader within the department."
When asked what she finds fulfilling, Simonis credits the variation in her work.
"Over the past 20 years, I don't think two days have been the same," said Simonis. "There is always a new project to focus on or a new way of doing things. The continual changes and need to learn keeps my days interesting."
"I also have worked with some of the best over my years at the bank," she added. "I have been lucky enough to make lifelong friendships with co-workers and help foster their career growth within our organization."
Jennifer Grota – Loan Processor to Systems Analyst (30 Years)
The banking world has changed ten-fold over the last three decades. Just ask Jennifer Grota, who joined Fortifi Bank in May 1992, and has been directly involved with many innovative changes throughout those 30 years.
Grota began her career as a loan processor and was promoted to loan department supervisor. With an aptitude for data and systems, she went on to become an operations manager, systems analyst, and finally systems administrator – which is the title she holds today.
"Jennifer's deep knowledge of bank systems makes her an invaluable resource, and the backbone of much of our operations," said Chris Jenkinson, Fortifi's director of IT. "She has led us through everything from core provider changes to new product and service rollouts to phone system upgrades. Her work may be behind-the-scenes, but the impact is felt across our whole organization."
In addition to these roles, Grota was named corporate secretary in January 2014. She continues to serve as a liaison between Fortifi Bank, its shareholders, and the First Berlin Bancorp board of directors.
"I like that every day is different, and I enjoy the challenge of continually learning new things, especially with technology," said Grota. "The digital world is always changing and evolving. When I started, most transactions were done on paper, and we typed our loan documents on a typewriter."
Grota echoed Nigbor's sentiments on the accessibility of banking careers, regardless of education and experience.
"There are many areas for opportunity in banking, including lending, accounting, IT, support, and client interaction positions. It is not limited to those with finance backgrounds."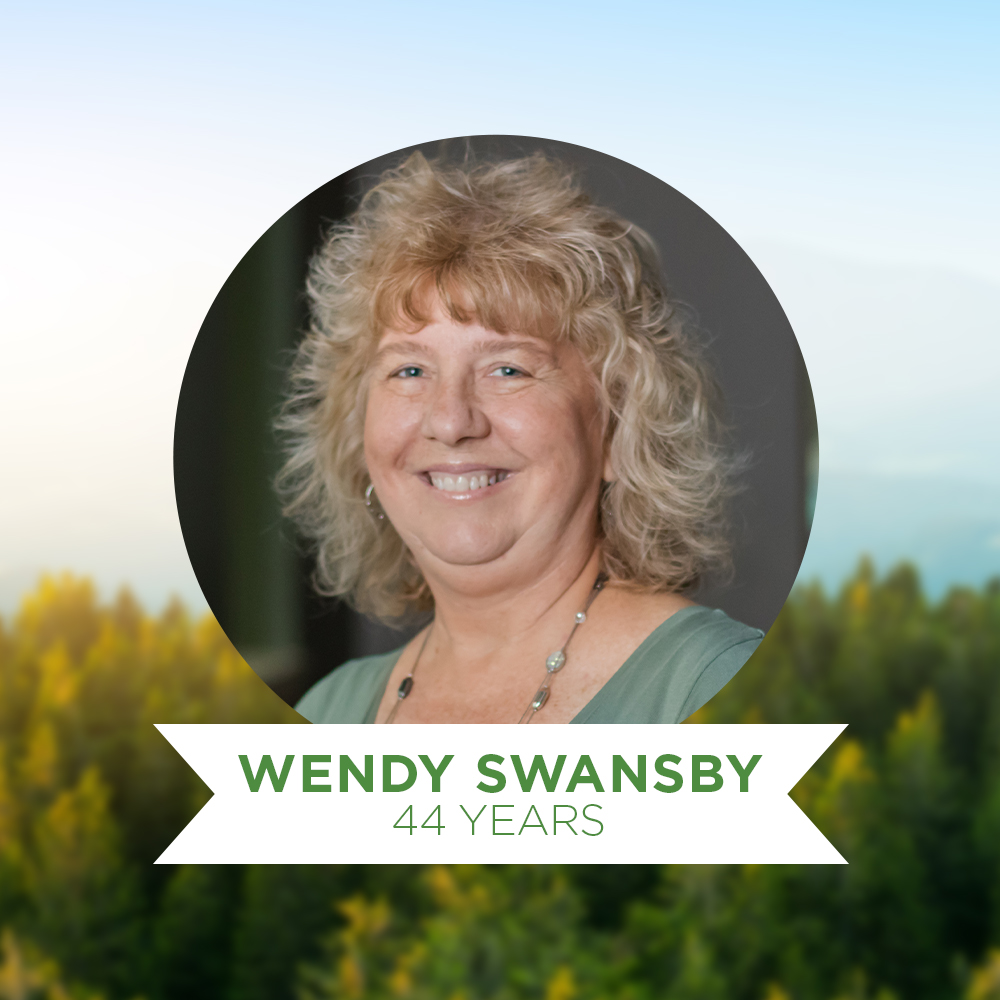 Wendy Swansby – Teller (44 Years)
Topping off the list is Wendy Swansby, who will reach her 44-year milestone in June.
Swansby began her career as a teller – which is the title she holds today. Throughout her years, she has held positions in the customer service, loans, and data processing departments. Wendy's career came full circle, choosing to return to the teller position due to her passion for client interaction.
"For many of our long-time clients, Wendy is the face of our bank," said Jennifer Moen, branch manager in Berlin. "She found her niche serving clients with their day-to-day financial needs and she stuck to what she loves. Wendy has been a welcome constant in a sea of changes."
When Swansby started her career in 1978, the bank, then named First National, was just over 100 years old and had 23 employees. It had only recently begun using computers to process checks and deposits in 1976. There were no drive-up windows, ATMs, or online banking.
"Customer service and building relationships come naturally to Wendy," added Moen. "She is an icon because clients feel her genuine smile and good heart. Whether it's at work or volunteering at a community event, she brightens the day of all she meets."
"I've met and made so many great, fun, and interesting connections throughout my years at Fortifi," said Swansby. "I love that every day is an opportunity to help people and make someone's day, whether it's through financial guidance or just a smile. The more you can build strong, meaningful relationships, the more likely you are to succeed and be more satisfied with your career. We are more than just cashing and depositing checks. We provide great customer service to our clients so they can trust that we are here for them."
She recited a favorite quote by author and speaker Jay Danzie that inspires her work and life outside the office.
"Your smile is your logo, your personality is your business card, and the way you make others feel is your trademark."
Swansby's mantra is wise advice for anyone looking to enhance their career.
"I want to thank these folks, as well as many others, for their commitment to our clients and community," said Lundberg. "We are lucky to have so many smart and caring individuals dedicated to Fortifi's mission of Growin' Wisconsin. It is a privilege to lead this team."
About Fortifi Bank
Fortifi Bank has been Growin' Wisconsin for 146 years – one person, one business, one relationship at a time. Financial centers can be found in Berlin, Green Bay, Green Lake, Montello, Omro, Oshkosh, Ripon, Waunakee, and Winneconne. Their full-service financial centers have been offering both personal and business clients with a portfolio of products and services that are designed with the client in mind. Local decision-making, community involvement, community ownership, and a Board of Directors comprised of local citizens have been the driving successes of Fortifi Bank since inception. For more information, visit www.fortifibank.com or call 855-876-1500.
###